TGIF! This will be the first of what I am planning on making a weekly feature. I want to share with you just a few of my favorite things from around the web, and everyone loves a little alliteration! So, Friday Faves it is!
This week, I figured I would stick to a theme.... ORGANIZATION! I ordered this epic planner from a very talented person on Etsy, and it has inspired me to create this week's list.
1. Since it was my source of inspiration, here is my fantabulous planner from
LetterCDesign
on Etsy: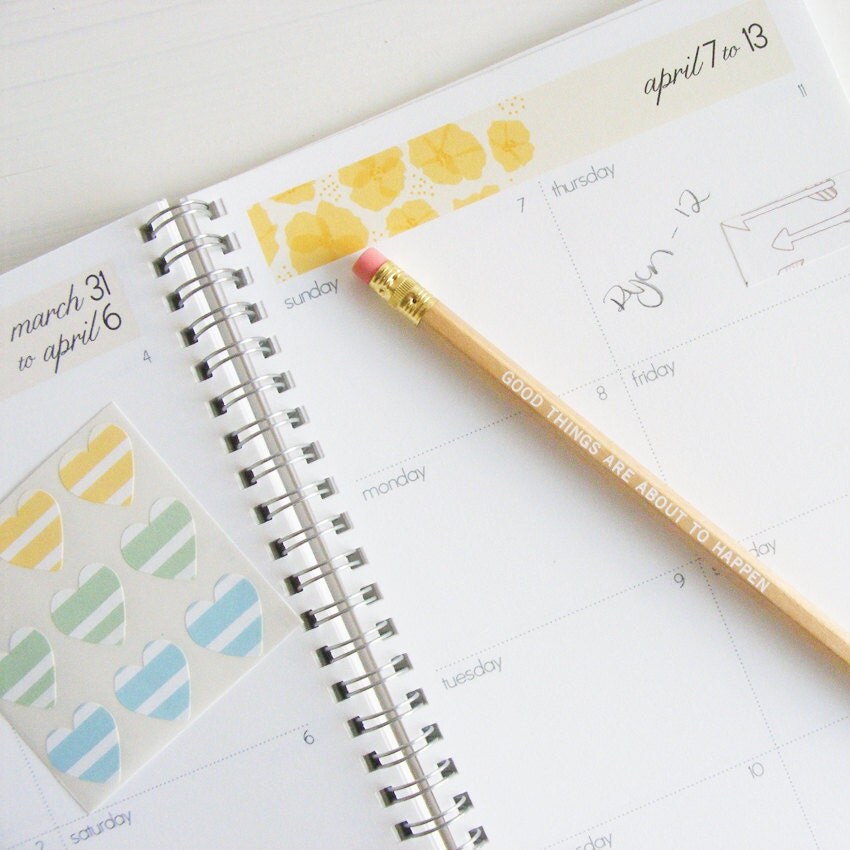 This baby has two pages for each month in the front of the planner, and then each week spans two pages after that. There is plenty of space to write in the boxes, and it is proving to be invaluable in planning my blog posts. I am "planning" (ha! see what I did there?) on showing you exactly how at a later date! The cherry on top of this sweet thing is that each month has a border of a different simple, charming graphic. It makes me smile every time I open it!
2. Blue Ball Mason Jars (or any cute, glass containers really!). I am borderline obsessed with collecting as many glass vessels as possible right now, and I truly feel the blue Ball mason jars are like the holy grail! I normally have found them for $8 or $9 bucks a pop, but I SERIOUSLY scored the other day and found one, a PERFECT one, for $1!! Yep! Just a buck!! Anyhoo, how seriously sweet are these for keeping track of crafty bits?
This image was found at this blog. I can't wait until my own slice of crafty paradise can look this good!
Swoon!
3. This
book
! It may not be a tool of organization, per se, but by George is it inspirational! The images make me practically drool! I highly recommend their quarterly magazine as well.
4. Another quickly growing obsession of mine: using salt and pepper shakers to store and display all of my loose glitter! I originally found this image years ago, and it is what inspired me to start collecting.
5. And last, but certainly not least, the kick-assiest highlighters I have ever used! Another fun fact about me, I am a total office supply nerd! I bought two packs of these babies, one for each office I work in. :)
You can buy your very own here :)
I even go as far as only using certain colors for certain types of notices I have to distribute. I use pink for my "nastygrams" because pink is cheerful and I figure it helps to soften the blow. :) I seem to have run out of pink the quickest.... curious.....
These are just a few of the ideas and tools I have seen or used personally to help make my life just a tad more organized and pretty! :) There are so many things out there to make keeping track of your stuff enjoyable.... now I just need to actually USE them!
What are some of YOUR favorite ways to display and catalogue your items? My own style is always evolving and I love sharing ideas!
Happy Friday lovelies!